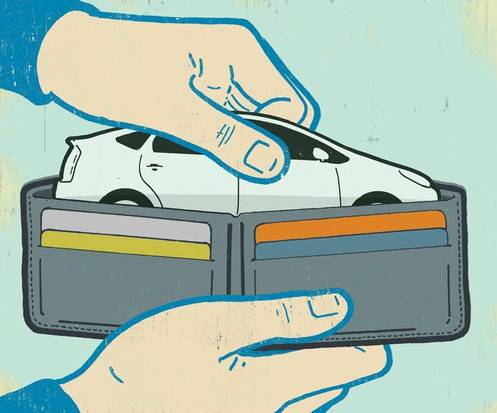 Most people love the freedom of the open road, but aren't so crazy about paying for auto insurance. However, most state laws require drivers to carry a minimum amount auto liability insurance. And, lenders who provide auto loans usually have insurance requirements as well.
Nevertheless, just because you need insurance doesn't mean you have to overpay. We understand you have better ways to spend your money and better things to do than shop around all day for insurance. Let us help you find the best car insurance company for you. Simply enter your zip code above and get free quotes from one or more of the top carriers in your area and save hundreds today.

— 10 Easy Ways to Save Money on Car Insurance —
1. Consider higher deductibles on collision and comprehensive coverage
If you file a claim under collision or comprehensive coverage, the deductible is the amount of money deducted from your insurance check. Higher deductibles mean lower premiums. For example, increasing your deductible from $250 to $500 on collision and comprehensive coverage could save you 15 to 30 percent. Increasing it to $1,000 can you save you up to 40 percent or more, according to the Insurance Information Institute (III). Just make sure you can pay it in the event that you need to make a claim.
There is no deductible on liability insurance. That means if you're at fault in an accidents and someone files a claim against your insurance, you do not pay anything toward that claim. But you might face increased rates at renewal time.
2. Drop collision and/or comprehensive coverage on old cars
If your car is totaled in an accident, you receive the actual cash value of the car. Although car insurance companies use their own criteria to determine fair market value for vehicles, you can get a ballpark estimate from NADA Guides. For older cars, it may not make financial sense to pay premiums over many years to maintain collision and comprehensive coverage. As a general rule, it doesn't make sense to buy comprehensive and collision coverage for a car worth less than $1,000, according to III.
3. Buy a car that's cheap to insure
Buying a sports car won't save you any money on auto insurance, but buying a small SUV might.
Small SUVs are among the cheapest to insure.
4. Consider usage-based insurance
Usage-based insurance (UBI) programs can save you money if your driving habits align with the insurer's view of "good driving." Typically a telematics device is plugged in below your steering wheel and it records data such as when you drive, how much and whether you brake hard. Usually discounts are then applied to your next policy term. If you drive a lot, drive at night or are prone to slamming on the brakes, UBI likely won;t save you money.
5. Take advantage of low-mileage discounts
Savings of up to 15% could be available to drivers who put fewer than 10,000 miles on their vehicles each year.
6. Ask about car-safety discounts
You could save 5-15% if you have certain safety features like air bags, anti-lock brakes and car alarms installed on your car.
7. Ask about other car insurance discounts
There are numerous discounts out there, and they often vary by state and insurance company. A recent study of car insurance discounts reveals these as the top five biggest discounts and national average savings:
Good student discount – 16%
Being married – 14%
Low annual mileage – 11%
Use of car, such as personal use – 10%
Having a home insurance policy with the same insurer – 9%
8. Keep your driving record clean
Tickets for moving violations, at-fault accidents and claims are a driver's worst enemy when it comes to insurance. You may have been a smart shopper for a competitive rate and discounts, but crashing your car could erase all savings at renewal time. Keeping your eyes on the road and your hands on the wheel could be your best money-saving strategy.
9. Maintain good credit
Many states allow credit history to be used as a factor in pricing insurance. Insurers say that statistics show that drivers with good credit records tend to make fewer insurance claims.
10. Consider spying on your teen driver
Teens are the most expensive drivers to insure because they're the riskiest. Some car insurance companies offer savings to customers who participate in their "monitoring programs" of teen drivers. Programs vary by insurer, and not all companies offer them. Some "spying" programs use cameras, installed inside the car, that provide you with video and audio footage of your teen driving. The camera is triggered "on" by aggressive driving.
Other insurers use global positioning systems (GPS) to track how your teen drives (including speeding and sudden breaking or accelerating) and where they go. You can even set the system to send you an e-mail or text message when your teen arrives at a specific address. The savings on your insurance can be anywhere from 10 to 15 percent.