Let's Drop Your Auto Insurance Rate Today!
Save on Average $489/year*
Bundle auto and home for even more savings
Get the Best Rate in 3 Simple Steps: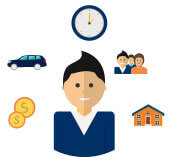 Describe Yourself & Vehicle Needs
Simply enter your zip code above and fill out the short, relevant information about your car and options for coverage.
Find the Cheapest Company
We'll shop around your location & match you with the best carriers for your needs.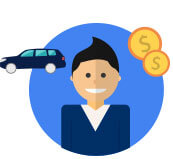 Get Covered & Save Hundreds
Complete online application process and get covered within minutes knowing you got the best rate available.
Tips On Reducing Car Insurance Premiums
Car insurance is a must if you own a vehicle, and you'll be glad you have it after an accident. But you don't want to spend a penny more than necessary on a policy, and you shouldn't have to. By knowing exactly what affects your auto insurance rates, you can figure out how to save on car insurance and get good coverage without breaking the bank.
Here are nine ways to help you lower your car insurance costs.
1. Take advantage of car insurance discounts
Every insurance company offers special ways to lower your car insurance premium. To make sure you're getting all the discounts you're entitled to, ask your agent to review your possible savings.
Here are some discounts offered by the four largest car insurance companies. But remember to compare quotes based on your own situation. Just because an insurer offers many discounts doesn't mean it offers the lowest overall price.
Allstate offers discounts based on vehicles, coverage options, lifestyle and driving. They range from a 5% discount for setting up automatic premium payments to a 15% auto and home insurance bundle discount. In some states, the company also offers Drivewise, a usage-based insurance program, and Milewise, a pay-per-mile program. Some drivers could save up to 39% by allowing Allstate to track their driving through these programs, the company says.

Geico offers discounts for vehicle equipment, driving history and habits, driver training, customer loyalty and membership in one of 500 "affinity" groups, such as organizations and employers. In addition, military members may be eligible for up to a 15% discount, and federal government employees and retirees may be eligible for up to an 8% discount.

Progressive offers discounts for owning your home, starting your quote online and signing documents online when purchasing coverage. The company also offers Snapshot, a usage-based program that tracks mileage and driving habits. Most customers earn a discount with Snapshot, but some customers may pay higher rates at renewal time if their driving data reveal risky habits.

State Farm offers discounts for students, vehicle-safety equipment and safe driving, among others. The company's Drive Safe & Save usage-based program gives customers an initial 5% discount for signing up. Safe drivers who log relatively few miles can save as much as 50% on car insurance, the company says. The program and discounts vary by state.
2. Take a driving class
In most states, car insurance companies must offer discounts to seniors. In Massachusetts you get a discount just for turning 65.
In other states, though, you have to take a class to brush up on your driving skills to earn the discount. Some classes are offered in person, while many are offered online through such groups as AAA and AARP. Check with your state insurance department to see which ones are approved for getting the discount.
The classes are cheap — less than $20 in many cases — and they cover lots of ground. You'll learn about how aging and medications affect driving, how to accommodate those changes safely and how to navigate common, but challenging, driving situations.
3. Choose a car that's cheap to insure
Car insurance rates vary widely depending on the type of car you drive. The next time you go car shopping, get insurance quotes for the models you're considering. Generally the cheapest cars to insure are those that don't cost a lot to repair and replace, are driven by mostly safe, experienced drivers, and are good at protecting drivers and passengers in crashes.
Make sure you get all the discounts you can from your car's features. Many auto insurance companies offer discounts for cars equipped with anti-lock brakes and air bags.
4. Protect your car
Besides helping you avoid a loss, anti-theft devices can score you discounts with many insurers.
Technology that could save you money include alarms, disabling devices (which don't allow the car to start if someone tries to steal it), and vehicle tracking systems such as OnStar or LoJack. Make sure to check with your insurer to see which products qualify for an insurance discount, if that's one of your reasons for buying a device.
You don't have to go high-tech to get a discount. Many insurance companies also offer discounts for etching the Vehicle Identification Number onto the windshield.
5. Get credit for driving less
Recently retired? Let your insurer know. Your premium should go down if you no longer commute to a job every day.
You might also consider a pay-per-mile insurance program, which bases premiums in part on how much you drive. Typically, you plug a device into your car's diagnostic port and it records your mileage. Metromile, Allstate, Esurance, Nationwide and Mile Auto all offer per-mile insurance in select states.
6. Raise your deductible
If your policy has a low deductible, but you could afford to pay more in the event of a claim, you can reduce your premium by opting for a higher deductible. The deductible is the amount your insurance company subtracts from the cost of a collision or comprehensive claim; it doesn't apply to liability coverage. As an example, if car repairs cost $5,000 and your deductible is $1,000, the insurer will pay $4,000.
7. Drop coverage you no longer need
Look closely at the details of your policy. If you don't commute to work anymore, you might not need coverage for a rental car when yours is in the shop for repairs. If you owe little or nothing on your car loan, gap insurance isn't necessary.
And if your car isn't a brand-new model, think about whether it makes sense to drop collision and comprehensive insurance. This coverage will pay to repair or replace your vehicle if it's damaged or stolen, but the maximum payout is typically limited to the current value of the car, less your deductible. Check what your car is worth. If your car's value is less than 10 times the extra premium you'll pay, it may be time to drop this coverage.
8. Consider bundling your insurance policies
If retirement means relaxing in your boat on the lake or traveling the country in an RV, you may have opportunities to save by bundling insurance.
Companies often give discounts for buying multiple policies from the same insurer. A typical bundle combines auto and home insurance, but some insurers also offer price breaks for bundling a car policy with boat, RV, motorcycle, renters or life insurance.
9. Shop around for coverage
Car insurance rates vary by hundreds of dollars a year among insurers for the same levels of coverage, so it's important to check rates.
A good driver with good credit can save more than $100 a month, on average, by finding the cheapest insurer instead of the most expensive in the state.
Savings can be even bigger for drivers with poor credit or a recent at-fault accident. Those drivers might lower their car insurance costs by more than $200 a month, on average, by picking the cheapest insurer instead of the costliest.
* Savings amounts are averages based on information from customers who became new auto insurance policyholders between 1/1/19 and 12/31/19 and provided data regarding their savings and prior carrier. Your savings may vary.