In Arizona, the basic requirements for driving your car on public roadways are that you maintain a minimum property damage and bodily injury coverage. Most have no idea what those terms mean. In the insurance realm this is the definition of each of these coverages:
Property Damage: It means exactly what it says. Damage to someone else's property of any kind that happened due to your car coming into contact with said possession. It really doesn't matter what it is, from scrapping your car alongside a fence to going through the fence and depositing your car in the homeowner's pool.
Bodily Injury: For the people in the other car, or in the case of the car in the pool scenario, perhaps lounging in the backyard at the barbecue they were attending when you literally crashed the party. These insurances kick in when you are found to be at fault in the incident. The minimum coverage that Arizona requires is $10,000 in property damage, $15,000 in bodily injury for one person, and $30,000 in bodily injury for everyone injured. For any who have ever wondered it is what 15/30/10 means.
Another thing to consider is the medical payment or med pay rider. For pennies on the dollar you can have this added to your insurance policy. This covers YOU and the people in your car's medical expenses and funeral expenses, regardless of who is at fault. You can get this at different levels from $500 up. When you have had an accident, especially if you do not have adequate medical insurance, the last thing you really want to have to worry about is how you will pay the bills to get well again. This rider can offer a certain amount of comfort, for a nominal fee. You will want to shop around to find out your best option.
Arizona is a good size state as far as population goes. According to the 2000 Census the state was the home to approximately 5.1 million people in 1999. The unofficial number grew to 6.5 million for 2009. This makes it the largest landlocked state in the union.
This also means that there are a large number of folks on the road every day. In metropolises like Phoenix, AZ the average commute is twenty-nine minutes, one way! It is also estimated that almost 71% of commuters drive their own vehicles. What this means for Arizona drivers, is that you are at high risk to have an accident. It's a very easy equation. The more people on the road, the longer on the road the more likely an accident will occur.
How to get cheap car insurance in Arizona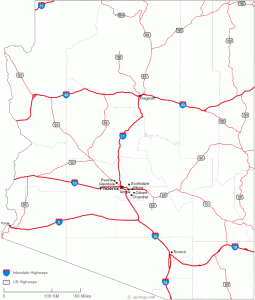 Arizona like so many other states does not have leniency for no car insurance. Think shopping for insurance is a headache? Better break out the economy-sized bottle of aspirin if you get caught without it. That's no joke.
What happens if you get pulled over? If you get caught driving without insurance not only will you run the risk of having your license suspended, or revoked if you are a repeat offender, but it will cost a very hefty fine to have your vehicle registration reinstated. As well, you will have to now carry an SR-22 which proves you have enough insurance. They aren't free.
With the advent of technology, there really is no excuse for not having car insurance. Getting cheapest auto insurance quotes and comparisons is as easy as logging onto the internet. LowestQuotes.com is a great site for just such an endeavor. You will receive several bids for your business from various insurance companies. This gives you the ease of shopping from your office or dining room chair when you have the time. Plus, no hassles from insurance agents calling 24/7 to get you to sign up with them, you talk to whomever you want to talk to.
Driving is a privilege not a right, no matter what state you live in. With it come certain responsibilities which have to be met if you want to retain your driver's license. Driving is also an amazing convenience, especially if you live in a large city. Ask anyone who has had to take public transportation. With a car you can go when you want to go, and come when you want to return. If you have your own car, you have mobility and freedom. So whether you live in Phoenix, Tuscon, Mesa, Chandler, Glendale, Scottsdale, Gilbert, Peoria, Tempe or any of the thousands of other Arizona towns, you need to find cheap car insurance that meets your needs.
Compare, Shop, and Save Today. Get Cheapest Car Insurance Quotes in Arizona by Comparing Free Discounted Quotes Online!
Resources:
Arizona Department of Insurance
Arizona Motor Vehicles Department
Auto Insurance Shopping in the News: