LowestQuotes.com, a leading Online Insurance Marketplace in Connecticut, offers consumers the best way to find low cost car insurance in Connecticut. Whether you already have an auto insurance and looking to reduce your rate or trying to get auto insurance for the first time, we can help you find an affordable policy that fits your needs and protects your family. By comparing rates from over a dozen leading Connecticut auto insurance companies, you not only get the lowest rates, but save a lot of time in the process.
Minimum Requirements for Car Insurance in Connecticut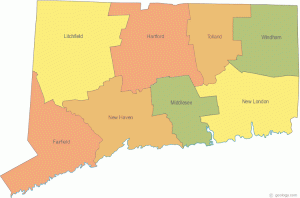 Connecticut has very reasonable minimum car insurance requirements and they are not that difficult to understand. First of all, you must have liability coverage, which consists of bodily injury and property damage insurance. Most states have this but what varies is the amount. Connecticut requires that you have 20/40/10 coverage. What this means is that you must carry a minimum of $20,000 for each individual you harm or kill in a single incident, $40,000 for all persons in the same incident, and $10,000 for property damage that you are found at fault for causing. This is relatively on the low end for most states. What you pay for your premium for the legal minimum coverage can vary greatly depending on your age, marital status, housing status, driving record, student status, and a host of other variables which can result in a plethora of discounts bringing your rate down considerably or raising if you have to have an SR-22.
In Connecticut, an SR-37 form is required if you get caught without insurance. The form essentially states that you are NOT admitting guilt, but you are not contesting the accusation. This states that you have and will keep proper insurance on your car for the duration of the current registration period.
This filing will set you back $200 per car. This is an important distinction, per car, because you may have more than one car covered by your insurance policy. If you have allowed your policy to lapse, all cars on that policy are in default of the Connecticut mandatory insurance coverage laws.
You do not have to fill this form out. If you have not had a lapse in coverage, you can have your car insurance company issue a statement for you proving the dates of coverage. You can have this sent directly to you or to the Connecticut DMV.
If you receive a letter from the Connecticut DMV stating you have allowed your insurance to lapse and you know that you have not, DO NOT wait to clear this up. You only have 30 days to respond to the accusation.
If you have let it lapse, again do not wait. No response can keep you from registering any car. Respond, fill out the SR-37, pay the fine and get yourself back on the road, legally.
Get Cheap Car Insurance in Connecticut
By making auto insurance companies compete for your business, you always come out the winner. In about 3 minutes, we can match you with multiple insurance providers in your local area who offer the most coverage at the least amount of money. Get your fast, free quotes now, and see how much you can save today! Whether you are living in New Haven, Hartford, Stamford or any other cities in Connecticut, we can save you hundreds by comparing cheapest car insurance in Connecticut.