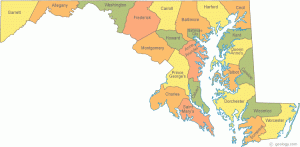 An average driver pays an annual premium of $1,860 in Maryland. This is more than $400 above the national average of $1,420. However due to intense competition among 30 or so insurance companies that does business in Maryland, you can save hundreds of dollars by simply comparing insurance rates online. It doesn't matter if you have a perfect driving record or if you are a high-risk driver, we work hard to get you the lowest automobile insurance rates in Maryland.
Minimum Car Insurance Requirement in Maryland
Of course, if you are going to drive anywhere you are going to want to make sure that your car has the proper insurance. What are the insurance requirements in the state of Maryland? There is a short answer and a long answer to this question. The short answer is 20/40/15.
The longer answer explains just what those numbers mean. You must carry bodily injury and property damage coverage in Maryland. $20,000 pays for the medical and funeral expenses of a single individual if you cause an accident with your car. $40,000 is for the same expenses but covers everyone else in the car; this is the max that your insurance will pay out for medical and/or funeral expenses per accident. Lastly, $15,000 is property damage coverage that will be paid out for the destruction that your car causes in the accident.
Maryland does not require that you carry uninsured or underinsured driver coverage. So the above requirements are the "minimum" you have to maintain on your registered vehicle.
You will want to shop around for the best rates that you can find. Take your time looking for vehicle insurance, so you know what insurance company has the best deal for you. You will want to look for car insurance every couple of years, so that you are getting the best rate at all times. Rates are always in a state of flux so due diligence requires that you stay on top of what has changed.
This is very easy to do these days since there are so many websites to help you with attaining Maryland car insurance. Maryland is very strict when it comes to keeping car insurance minimums on your vehicle.
Not having insurance on your registered vehicle in Maryland is considered a criminal act. If you allow your Maryland car insurance to lapse you will have your vehicle's registration suspended. If this is not intentional, you will need to get it taken care of as soon as possible. You will be fined $150 for the first 30 days of not having insurance, and then the fine goes up $7 a day every day after that until you get it cleared up.
Once you have lost your registration due to not maintaining Maryland car insurance requirements, it will cost another $25 to have your privilege reinstated. You may also have to secure uninsured motorist insurance and you may not be allowed to register future vehicles until you can show you have insurance.
Do not consider falsifying your insurance information to get around this, there is a $1000 find and/or you can serve a year in prison for falsifying this information.
Shopping for car insurance is not a day at the amusement park, but it beats having to deal with the penalties if you don't have it, and the money it will cost you to make restitution if you hit someone without having it. So shop around and compare insurance rates from top  companies to find the cheapest car insurance in Maryland.