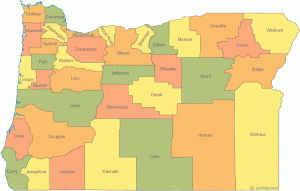 Oregon State Insurance Department reports a mean car insurance rate of $1,230 for Oregon drivers, 18% below the national average. Whether you already have an auto insurance and looking to reduce your insurance rates or getting an auto insurance for the first time, let LowestQuotes.com's rate finder tool help you compare the rates from dozen of the leading auto insurance companies in Oregon.
Many different factors like your occupation, education, claims history and gender determine your auto insurance rates. To ensure getting the best rate, compare car insurance quotes online.
Minimum Oregon Car Insurance Requirements
The state of Oregon has an extended list of requirements when it comes to car insurance. I use the term extended because most states only require liability insurance to be purchased for your vehicle. The state of Oregon requires that you also have uninsured/underinsured motorist coverage and PIP or personal injury protection.
The minimum for the liability portion of your coverage is 25/50/20. That is $25,000 to cover the medical and possibly funeral expenses that arose from the accident for one person and $50,000 for the same expenses for all persons involved in the same accident. You must have at least $20,000 in property damage coverage to repair or replace physical property that is damaged by your car in the accident.
This comes into play if you are found to be at fault in the accident. Oregon is a Tort system state. This has different delineations from one state to the next, but it basically means that someone must be determined to have caused the accident. The person that is found to be at fault must pay to have the injured parties expenses taken care of.
As of January of this year, Oregon also implemented the regulation that you must have uninsured/underinsured motorist coverage on your policy in the amount of $25,000/$50,000. This covers you in case the minimum liability that the person has does not cover all your expenses, or if the person has no insurance at all. Your car will be repaired and your medical or funeral expense will be covered. The last part is the PIP, or personal injury protection in the amount of $15,000. This is solely for the medical expenses that you and any of your passengers end up with because of the accident. Even if you are found at fault this rider will pay the minimum of $15,000 per person to have your medical needs handled without question from the doctor's office of how they are going to get paid. These requirements guarantee that every motorist in Oregon will be taken care of in the event of an accident.
With all the various weather conditions, driving can be very hazardous in Oregon. One of the hazards is drivers from other states, like neighboring California, who do not have experience driving in adverse weather. They can be more of a danger than the road conditions. Because of this one needs to know and have the right insurance coverage on their car before driving in Oregon. Compare rates and start saving today by simply entering your zip code above.